Select the Session that is Right for You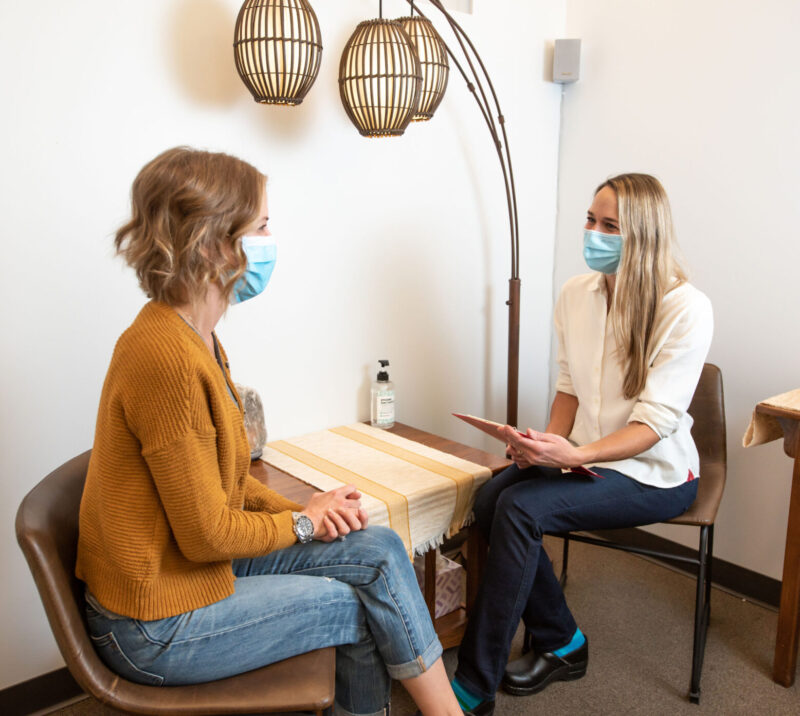 You can choose the session length that's best for you: 60 minutes, 75 minutes or 90 minutes. The session length includes time for initial discussion about your needs and goals, and, if needed, ending discussion about follow-up and self-care recommendations.
Some clients like to start with 60 minutes to get a feel for the work, while others like to jump right in with a longer session. A 60-minute session is good for working with one or two specific areas, or doing an overall flush. A longer session is good for doing both the specific and the full-body work. If your condition is advanced or is chronic, it may be best to devote an entire session to addressing the target area.
Not only do we offer a range of massage session lengths and techniques to cater to your individual needs while helping you maintain your overall health and well-being, but our massage rates also include session enhancements at no extra cost. Our enhancements include the use of hot stones, professional grade percussive massage tools, vibro-acoustic massage tables, essential oil diffusers, hot towels, lavender eye pillows, herbal liniments, and heated lotion. These enhancements work together to provide an elevated and deeply relaxing experience during sessions. Check with your massage therapist to see which enhancements you can experience at your next session.

Our Team's Professional Fees
Tier 1
Flor

Tier 2
Nyxi

Tier 3
Mariah

Tier 4
Eric

Tier 6
Jonathan

60 min

$105

$115

$125

$135

$155

75 min

$130

$142

$155

$167

$194

90 min

$155

$170

$185

$200

$232
Save on sessions with our Membership and Package Discounts
Introducing Massage Memberships
In order to help our clients and community prioritize self-care and maintain their health, we've added memberships to our professional rates and packages.
Memberships are a way to make accessible the regular massage care that makes such a difference in increasing total quality life. It's how we are fulfilling our promise of delivering preventive medicine, the type of healthcare that keeps you out of the doctor's office, free of illness and surgery, and out doing what you most love to do.
Memberships will start at just $95 per month and will offer our biggest session discounts, 10% off the new per session rates. You can learn more about our memberships here.
Package Discounts

— Available for purchase

here
Our packages offer a range of discounts based on the number of session purchased. They can be a great alternative to our membership program for clients who know they want to complete a series of treatments with a specific massage therapist on our team. In addition, they can benefit clients who would like more flexibility in the timing of their sessions. Sessions that are purchased as part of a package can be redeemed at any point up to one year from their date of purchase.
Packages can be purchased in either a 4 pack (for all therapists) or an 8 pack (for Tier 2 therapists and above). See below for detailed information on these significant discounts.
Flor's Professional Fees — Tier 1
4 Pack Session Rates
Regular Rate
4 Pack Per
Session Rate
Package Total
Total Savings
Percent Savings
60 min
$105
$99
$395
$25
6%
75 min
$130
$123
$490
$30
6%
90 min
$155
$146
$585
$35
6%
Nyxi's Professional Fees — Tier 2
4 Pack Session Rates
Regular Rate
4 Pack Per
Session Rate
Package Total
Total Savings
Percent Savings
60 min
$115
$108
$432
$28
6%
75 min
$142
$134
$534
$34
6%
90 min
$170
$160
$640
$40
6%
8 Pack Session Rates
Regular Rate
8 Pack Per
Session Rate
Package Total
Total Savings
Percent Savings
75 min
$142
$131
$1045
$91
8%
90 min
$170
$156
$1250
$110
8%
Mariah's Professional Fees — Tier 3
4 Pack Session Rates
Regular Rate
4 Pack Per
Session Rate
Package Total
Total Savings
Percent Savings
60 min
$125
$118
$470
$30
6%
75 min
$155
$146
$583
$37
6%
90 min
$185
$174
$696
$44
6%
8 Pack Session Rates
Regular Rate
8 Pack Per
Session Rate
Package Total
Total Savings
Percent Savings
75 min
$155
$143
$1140
$100
8%
90 min
$185
$170
$1360
$120
8%
Eric's Professional Fees — Tier 4
4 Pack Session Rates
Regular Rate
4 Pack Per
Session Rate
Package Total
Total Savings
Percent Savings
60 min
$135
$127
$508
$32
6%
75 min
$167
$157
$628
$40
6%
90 min
$200
$188
$752
$48
6%
8 Pack Session Rates
Regular Rate
8 Pack Per
Session Rate
Package Total
Total Savings
Percent Savings
75 min
$167
$154
$1230
$106
8%
90 min
$200
$184
$1470
$130
8%
Jonathan's Professional Fees — Tier 6
4 Pack Session Rates
Regular Rate
4 Pack Per
Session Rate
Package Total
Total Savings
Percent Savings
60 min
$155
$146
$583
$37
6%
75 min
$194
$183
$730
$46
6%
90 min
$232
$218
$873
$55
6%
8 Pack Session Rates

Regular Rate
8 Pack Per
Session Rate
Package Total
Total Savings
Percent Savings
75 min
$194
$179
$1428
$124
8%
90 min
$232
$214
$1708
$148
8%