AI Assisted Massage Therapy
Wellness Care For Everyone

Bodywork for Liberation (BFL) is a leader in offering world class innovative techniques that aid clients in their healing and wellness transformation. BFL is now the first massage clinic in the US to offer iYU technology to clients. What once may have seemed like science fiction is now a reality.

"Sharing iYU robotic massage promotes the Bodywork for Liberation clinic's mission of making world class preventative and wellness care available to more members of our community," according to founder, Jonathan Grassi who connected with the iYU technology team during the summer of 2023 after an exhaustive search into the emerging field of robotic massage technology. This search led Jonathan to the discovery of iYU: the leading edge AI based massage device designed and developed in France by Capsix Robotics.
Upon sharing his passion with the Capsix team of making massage more affordable and accessible to his community, Jonathan was invited to France to experience iYU in person. The attention, care, ethics, and high caliber design sensibilities utilized to develop iYU resulted in a massage experience that exceeded Jonathan's demanding standards for world class wellness care.
About bringing this elegant massage experience to the Lafayette/Boulder community and US, Grassi says, "As a society we have an opportunity to have wellness care not just as an ideal but as something we are able to deliver. iYU provides a safe, consistent, affordable, and individualized massage experience for all."
Wellness Guide Facilitated
Care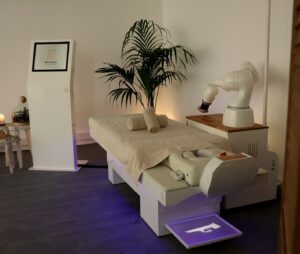 This new massage option delivered at Bodywork for Liberation will be facilitated by wellness professionals that have completed a training curriculum tailored to guide clients through the iYU experience. Utilizing physiotherapist designed AI protocols, iYU delivers customizable massage care through a medical quality robotic arm (used everyday for surgical applications) and a sophisticated hand with refined inference abilities.
Like traditional massage, clients lay on a massage table. iYU's massage table then scans the body's contours to customize and create an optimal experience: utilizing precision, pressure, timing, and other massage criteria. Clients can then select oil-based or dry massage to go along with one of many protocols.
iYU's high quality back massages include a client safety orientation, individualized protocol consultation, and a post session check-in/survey. The actual massage work happens in private with clients being provided a call button to summon the iYU wellness guide for assistance as desired at any time during the massage session.
The iYU Massage Session Experience

Check-in at iYU kiosk

Select massage intention: including relaxation, pain relief, or a mix, plus a upper, mid, or lower back focus

Select musical accompaniment

Enjoy your massage experience!
A remote control enables the client to start or stop the system or to increase or decrease the pressure being applied at any time. Automated voice prompts guide the client through the massage session as the screen below the face cradle displays the pressure level and massage progress.
A typical back massage session is 35 minutes. At the conclusion of the session, trained staff will assist clients with iYU massage membership questions, payment, and scheduling, or any other questions.
Safe and Effective for Every Body
Already in use in Europe and Canada, iYU is the first publicly available AI assisted massage therapy solution in the world. iYU systems exceed the strict health and safety standards of the European Union and have provided over 8,000 massages worldwide.
iYU makes everyday wellness possible by:
Providing an affordable solution — making regular massage care a reality
Delivering high quality service every time— with iYU you know exactly what your massage experience will be
Expanding availability of massage sessions — book your care when you need it most
Allowing you to select the pressure — enjoy the perfect massage pressure each and every time
Providing a solution for those who need massage but might not want touch from a stranger — for clients who are introverted, have body shyness, or may have experienced trauma, iYU can provide the care they need
Enhancing existing care with a massage therapist — iYU sets a foundation of regular massage care that can enhance results from hands on therapy
Decreasing the risk of disease transmission (including COVID) — with low human proximity required and complete disinfection after every session, iYU is an exceptionally safe massage option
Decreasing insomnia — studies in Europe show clients who receive regular iYU massage care sleep better for longer
Providing effective back pain relief — the greater frequency of sessions available through iYU can create results faster than hands on care alone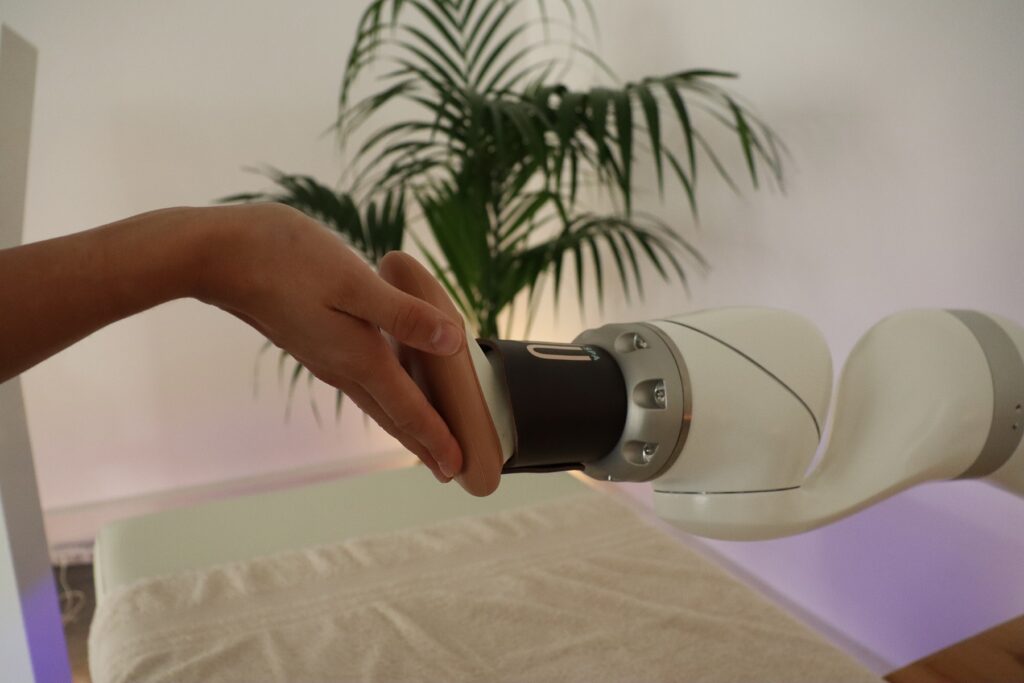 Experience more consistent care,
with greater impact, at a fraction of the cost.

Book your free introductory iYU session today and experience the difference
massage wellness care can make on your total wellbeing. Now everyday can be a massage day.