Mark Reeves, Office Manager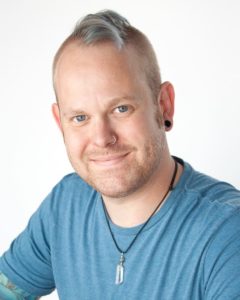 I aim to meet everyone—over the phone, by email, or by text message—with top-notch quality service, and to make sure everyone who comes through our door feels like family. As office manager, my primary responsibility is to ensure that everything runs smoothly. I serve as the interface between clients and therapists by scheduling appointments, greeting clients as they walk in the door, and following up with clients. I also assist the therapists by changing rooms between clients and making sure the rooms are stocked with all the tools they need so that they can focus all of their time and attention on our clients.
I ensure our clients' service is unmatched. Our therapists bring masters-level clinical skills, and I'm here to make our clients' experience outside of the treatment room the best it can be.
As a yoga teacher, I've always loved learning about the human body and holistic approaches to wellness. Managing the office at Bodywork for Liberation lets me see a different approach to holistic healing and wellness and allows me to merge my knowledge of yoga and wellness with my disposition as "recovering Type-A personality." I enjoy being the face to meet people who are on their path to wellness and healing. And I really like being a guidepost along their path.